Thursday, September 06, 2007
So maybe I should finally show you my last loopy order that I got. It was my sixth order and gave me my loopy groupie status. I really need to stop looking at TLE. There was an update today and I saw two more skeins of yarn in gorgeous colors that I MUST have. They were Fiesta Boomerang in Misty Morning, and Raspberry Mocha. GORGEOUS. I didn't buy them, but oh man I wanted to.

Here's a glimpse of the newest stash additions.

Dream in Color Smooshy Sock in Some Summer Sky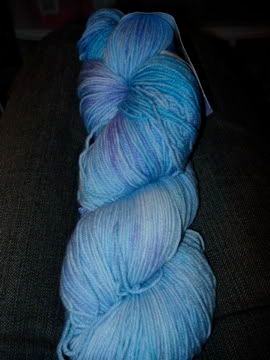 Seacoast Handpainted Panda in Raspberries

Shi Bui Sock in Orchids
and my wooden sock blockers with sheepies!
I also got this tote, some loopy kisses,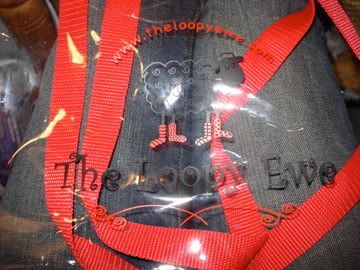 and this Crystal Palace Panda Cotton in Tulips, which is my favorite of the colors.
They were the welcome package for being a loopy groupie. Woohoo!

Here is a glimpse of my loverly twisted flower sock, on the blocker! You can really see how nice the pattern looks on here. I'm also quite a bit further, I've got about five rows to complete the foot chart. Then it says to repeat those last 5 or 6 rows till it's the right length and they are easy rows so it shouldn't take long before it's done!
Oh yes and I refinished the toe of my first monkey sock. I had kitchenered it wrong and it had a hole. Before that though I ripped back the toe and knit an extra repeat because they are going to Melissa when they are done. I don't want to rip out the whole sock because they are overall too big, I'd rather knit another and send them off. I have more of this yarn too so I can knit more socks in it.

Ok so now I'm yawning, and duh it's 1:30, so no wonder. Off to bed!