Monday, June 04, 2007
Here's a little progress on my spiral boot socks. I started them the other night and it's a very fast knit so far! The yarn is a little rough on my hands so I can only knit for so long. Once it's knit up though it feels softer. And my feet are much less sensitive than my hands are.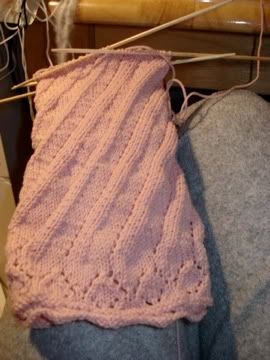 I have just finished the leg spiral decreases and am on to the ankle already. I have about four inches till I reach the heel flap. I am so excited about these socks! It will be my first actually finished pair of socks, that is, if I finish lol. So other than this not much else is up. I'm making progress on clem too but it doesn't look very different from the last pic.