Thursday, May 03, 2007
I got more fun stuff in the mail today! WARNING, this post is image heavy! Lol.

First up is a skein of Kidsilk haze in Hurricane that I traded for. It's such a pretty color, hard to see in the picture though. It's like a dark grey blue. It's really pretty and soft. Still feels a tiny bit scratchy on my neck but there isn't much that doesn't. I've got other colors on the way that I ordered as well for shawls. I am probably going to make a mini shawl with this one of my own design. And then make the regular version out of the rest that is coming. We'll see.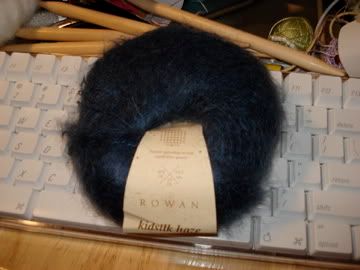 Next up is my ball winder!!! I'm very excited about it and it works GREAT. I also discovered on Joann.com where I ordered it that it's now discontinued. So it's good that I got it when i did, and so cheap too! Here it is with some yarn I'm winding up to send off since it's Alpaca. I figured nice wound cakes are better than in a ball. And the blue/white cake is some laceweight I bought a week ago. My first yarn cake on my new winder!!!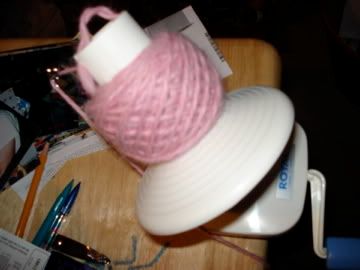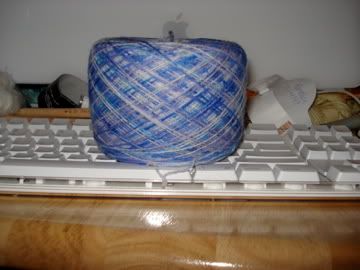 Here is the zephyr wool silk from sarahsyarns.com that I ordered! I'm very excited because now I can start making my spring things shawl! The colors are in order, Teal, Aegean, and Garnet. Teal is the color for my shawl. I am going to use one of the other two for my swallowtail shawl, and one for something else. Not sure yet. I also bought some beads. I couldn't find any teal for my shawl but I got some silvery clear ones that should look ok...at least they will stand out!

Allll of the yarn below is from Christine, we traded and she's getting that alpaca that I'm winding up. :D The red is laceweight that she bought for me. A whole 1600 yards in a very soft gorgeous red color. The perfect color to pick for me. I'm thinking of making an Icarus shawl with it maybe. The debbie bliss is some stash yarn she had. I'm not sure what I'm doing with it yet but I've got 6 balls of it! And all the other fabulous yarns are ones that she dyed herself. I loooooove all of it!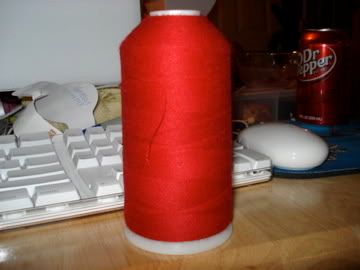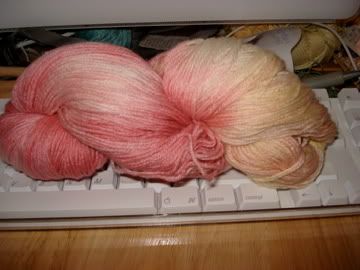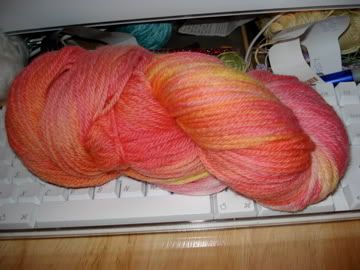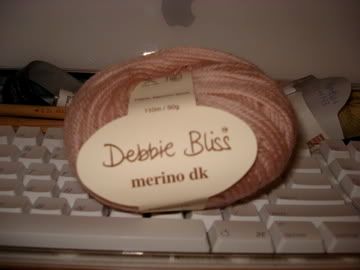 So, that's all my treasure for today!