Saturday, August 25, 2007
Today I got up and tried to make it to the post office before they closed. I didn't make it, so I was unable to mail the two yarn swap packages that I really needed to mail. Ugh, Monday I will. I did get some things in the mail though. The lady let me get my boxes since she was there still. I got 4 ounces of roving, which I forgot to take a pic of. I will later. I also got a package from my other swap pal, for the getstitchy one. Pixie sent me some awesome stuff! She musta been reading my blog. ;)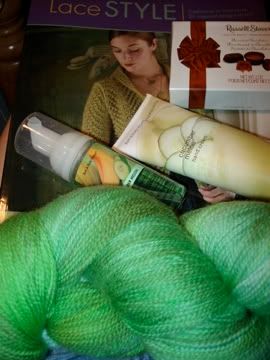 I got a very large hank of very pretty green sock yarn, which is super soft. A little box of chocolate. Some Bath and Body Works lotion and waterless hand cleanser foam in Cucumber Melon. Annnnd the Lace Style book I wanted! I was so surprised. I seriously had it in my hands to buy yesterday and got the other book instead. Thank you so much Pixie!

Also, wheel update. I've gotten some great tips from a whole group of people. I figured out how to adjust the thing to line up the other speeds with the wheel. Unfortunately the wheel started to wobble really bad. On monday it's going in to Paradise Fibers, where Bill the owner will inspect it for me. Hopefully it's fixable or I'm going to be calling the woman I bought it from...

My cousins wedding was today. It was fine, tiring with both kids and hubby had to work so no help there. But my dad was there and the whole rest of the family helped me out too at the reception. Nick twisted his ankle though, and is having a little trouble walking on it. If it's not better by tomorrow we'll take him in, but it's not really swollen or anything. So we'll see.

Ok so other than that, not much else to report!