Wednesday, April 04, 2007
Ok so today was like a weird day. There were some pretty crappy parts, but at the same time, some awesome parts too. I got some fun stuff in the mail today!!!

So there were errands to do, and I realized on the way to the post office (which is the opposite direction as the gas station) that I'm almost on Empty. I live way out so I was hoping I would make it back in to town. I did. So I go into this little gas station where my MIL said they take checks, because that's what I had on me... and the woman there said no checks. I was r
eally not very happy. Turns out that they only take them from people they trust. She pretty much took one look at me and said because I was young, no. They've had too much trouble with young kids coming in writing checks and then the checks get returned. Friggen A. So I called my mother in law back and she said, let me talk to her. She knows her, so the lady there finally accepted a check from me and I got my gas. I was so upset tho, I was shaking and could barely write it out. Ready to cry and everything. Doesn't help that today is "that time of the month". So I know why I was all emotional. I usually have a tendency to cry then lol.

Anyway I did get two fun things at the post office but I couldn't be happy about them until I got gas in my car. One of them was my calmer yarn for the CAL. To make my second design. It's a really bright but not like dayglow, orangey tangerine. I think it's called tangerine actually. Way pretty altho prollie not everyone's cup of tea. And sooooo soft.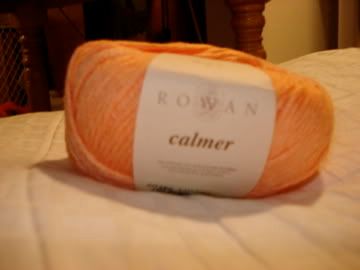 I also got a very sweet thank you card from Grace Brunelle. I hunted down some kool aid for her and she sent me this card in return. On the other side of the card was a packaged of some seeds for some very pretty flowers called Cosmos. There was also a little velvet drawstring bag with stitch markers inside! Very cute I must say and very thoughtful. Here are some pics.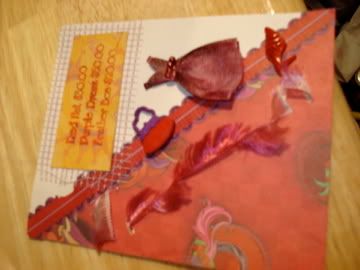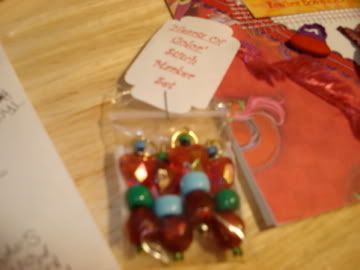 So I ran the rest of my errands, went to costco (where they do take checks thank god) and got a few things. I went to the library to return my books, and got a few more with some cute patterns. An argyle vest I think hubby would like...a book with some cute placemats and bath things. The primary reason I went there tho was to use their computers to view my school's video tutorials for my 3d class. Figures it's my luck that they won't load there either.
I was also supposed to pick up some prescriptions at shopko, and guess what I forgot to do? Yeah. So that sucked, but Chad can get them on his way home tomorrow.

Anyway, so that kinda ruined my day again. But then I got home and brought all the stuff in and gave my MIL her mail that I picked up and she goes, oh yeah, that box from amazon came for you. And Chad looks at me like, what did you buy now? But I didn't order anything. So I opened it and guess what was inside? This!


My secret pal sent me the fitted knits book by stefanie japel that I'd been eyeing! I'm so glad that I didn't buy it when I was drooling over it lol. I'm so excited! I was dancing all over the house with it and showing my MIL all the pretty patterns. Even the babies came over to check it out lol. I can't wait to start knitting up all the pretty things in it! Here are some pictures of my favorite things in it. The yellow one is by far my favorite but they are all just so cute.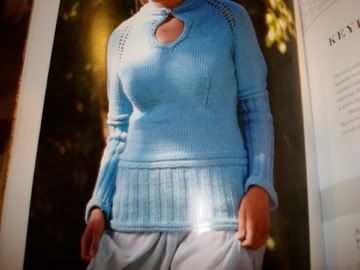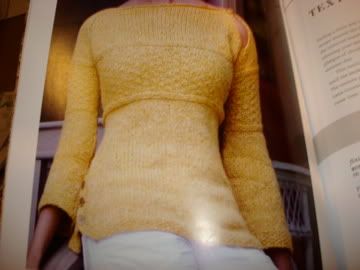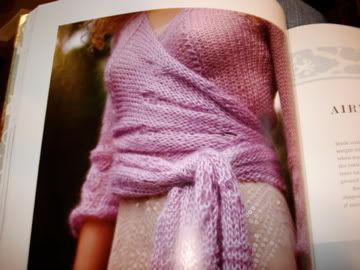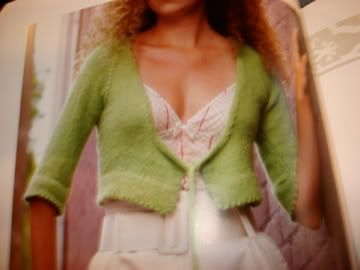 This blue tube top has a lace pattern down the front, sorry the pic makes it hard to see...

Thank you so much secret pal!!! This was exactly what I wanted, it's perfect and I love it!

So today was a mixed day, but now that it's mostly over I'm pretty happy and love all my stuff. I'm gonna go eat dinner now. I kinda forgot to eat today and I'm starting to feel woozy!